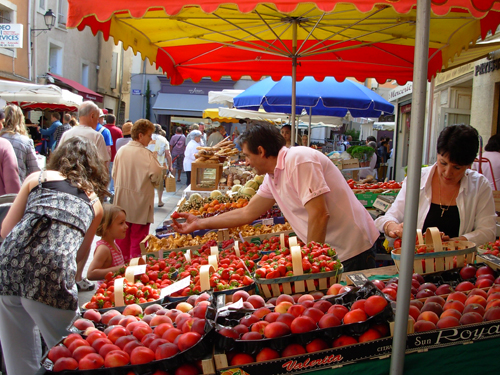 Tours & Classes
There is lots to do and see in and around Mas Saint Antoine and below are some ideas that we have put together for you and ones that have come highly recommended by our clients.With so much to explore we hope these suggestions will help you plan your holiday itinerary.
The French Language
Interested in learning French or brushing up on what you already know. We highly recommmend Magali who is based in St Remy, 20 mins from us. You can contact her via her website: www.parlons-en-provence.com
Historic & Cultural Tours
Come away with Voyages Millefleurs to the South of France. Corinne has been bringing groups to Mas Saint Antoine for over 12 years now. Imagine picnicking in vineyards, exploring ancient ruins, shopping in colourful markets, walking down the "impressionist path" or savouring local cuisine - and its all taken care of so you can sit back an just enjoy!. All you need to bring along is your cameras, sketchbooks and appetites and Corinne takes care of the rest. Visit her website: www.customwinetours.com
To view the latest tours or to have one tailor made for you and your friends contact her at: info@customwinetours.com
Discover Provence in an open top 2CV
Discover the most beautiful surroundings of the South of France in a typical 2CV with open rooftop. Like the good old days! 2cvExperience.com rents beautifully restored 2CV's for your trips, day trips, weekends, special vacations and unique tours. They provide you with a touristic guide and basket for a country picnic. For more information refer to their website: www.2cvexperience.com
Wine Tours
We can help plan your day if you would like to self drive or if you want to be driven we recommend Francois, a tour operator who has been in the wine industry for over 25 years.Visit: www.avignon-wine-tour.com. We suggest you book in advance as he is very popular and numbers are limited.
Or if you are looking for something more relaxing then why not consider visiting one of our favourite vineyards where you can do a very informative self guided tour, the all important wine sampling and enjoy a picnic of local produce at one of the various tables set amongst the vines with stunning views towards Mt Ventoux. We recommend booking in advance at http://www.marottevins.com/en/
Provencal Cooking and Food Tours
Provence is blessed with a seemingly endless supply of fresh, local produce just aching to be turned into a delectable meal. If you are looking to expand your knowledge of Provencal cuisine, or perhaps just have a fun few hours in the kitchen we recommend Gilles at Provence Gourmet,
www.provence-gourmet.fr
or if you just want to taste regional products and learn about the history of food then we suggest taking a 3 hour guided walking tour in Avignon with Aurelie, visit the best Provencal food shops and discover the local traditions,
www.avignongourmetours.com
Back Roads of France
Wanting to see the best Provence has to offer but don't want to drive yourself - We highly recommend Provence Sightseeing Tours who offer 10 different ready made tours or your own tailor made tour - they will collect and return you to Mas Saint Antoine. For further information or booking refer to their website: www.provence-parnorama.com